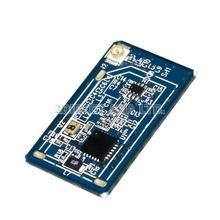 LoRa® (Long Range) enables very long range transmissions (more than 5 km in rural areas) with low power consumption. This module supports radio regulations including ESTI EN 300220, FCC CFR47 Part15, China regulatory requirements and Japan ARIB T-108. It is ideal for inexpensive, long-range connectivity for Internet of Things (IoT) devices in rural, remote and offshore industries. Main chip: Semtech SX1262/SX1261 SOC Full range sub-GHz LoRa® module from 150MHz to 960MHz SPI interface easy for standard current ready MCU Excellent transmit capability: TX power up to +22dBm (SX1262), +15dBm(SX1261) RX sensitivity down to -135dBm Antenna: IPEX I interface Dimension: 15 x 25 x 3mm
More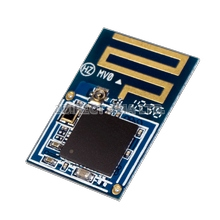 Providing the complete Bluetooth 5.0 RF solution and Thread solution (802.15.4 based networking), suitable for various Smart hand-held device's low power accessories. Main Chip: Nodic NRF52840 CPU: Low-Power 32bit ARM® Cortex™-M4F CPU 256KB RAM Program Flash: In-system-programmable flash, 1MB 128Bit AES security coprocessor Quadrature demodulator(QDEC) 2.4-GHz Bluetooth low energy compliant Excellent receiver sensitivity (-94 dBm at 1 Mbps) NFC-A tag interface for OOB paring Antenna: on board PCB antenna FW upgrade: Over-the-Air (OTA) support Watchdog Timer support Peripheral: USB, I2C, I2S, SPI, UART, NFC, PWM, Temperature Sensor.. and so on Also provide user-friendly library for iOS, Android, Windows and MAC developers Dimension: 13(W) x 20(L) x 3 (H) mm
More
About Us

Best Technology, Best Quality & Best Service

Established in 2005 and located in Taipei, Taiwan, 2direct Asia Ltd. has been offering a wide range of high-quality innovative products for Wi-Fi modules, Power modules, Bluetooth modules, WLAN Antennas, RF Cables and Assemblies. If you are looking for a great solution with impeccable service without any hassles, we are definitely your best partner.

We are your best OEM/ODM solution provider including:
In-house Design by our talented engineers
Seamless Software & Hardware Integration
100% Quality Control; ISO9001:2015 & ISO14001
Confidential Laboratory Testing
Cost Control; Estimates and Budgeting
One Stop Service

Why Us?

High Efficiency
We can provide PCBA designs and layout in 10 days.

100% Quality Control
We do 100% ATE machine and burn-in testing for the production.

Internationally Accredited Lab Certificates
We cooperate with TÜV certificated labs to do professional certification testing and we enable to apply the TÜV, as well as UL certificates. Other certifications are available if needed.

Comprehensive QA & Software Debugging
Our engineers provide you the bullet-proof software debugging and quality assurance in-house.

Hardware Design & Development
With our professional hardware-engineer experience and cooperation with professional tooling manufacturers, we also develop a variety of tooling molds for many types of customers.

Cable, Assembling & Packing
To facilitate cost control and cost reduction for our clients, we also do cable purchasing, assembly and packing.

More
New Products